THE NEWS

From Phoenix's Brain To Your Face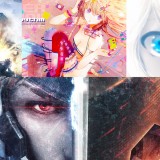 Computer monitors are getting bigger and bigger. I've been creating my wallpapers in 2560px width for years now, but finally decided to post that width in Widescreen and HD resolutions. Enjoy the new resolutions:
2560×1600 (Widescreen 16:10)
2560×1440 (HD 16:9)
As always, I post them in the largest resolutions for your monitors to adjust on their own. I'm way too lazy to resize a single resolution over and over again. Deal with it.

Anime Reviews
Avatars
Photoshop Brushes
Tutorials