THE NEWS

From Phoenix's Brain To Your Face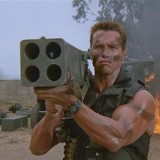 Howdy folks! So I've made minor tweaks to the menus here and there. It was bothering me that the site's non-category links were thrown at the bottom and not visible in the mobile versions of the site, so I've shifted things around a bit. Now there's a "MORE…" link for you to access the other pages from the top of the site.
I've also been more active in the blogging portion of this site, so feel free to read that if you're interested in the more "feminine" aspects of my life.
In more masculine news, I made a video lately, spoofing an Arnold Schwarzenegger movie. Give that a look if you have the time? Let's see how long I can keep this frequent site update schedule.

If I Gave Gold Stars Instead Of
Anime Reviews

?

Anime Reviews
Avatars
Photoshop Brushes
Tutorials