Makeup is a double-edged sword. People say they prefer natural beauty, but "no makeup" photos of celebrities always shock people and bring on negative feedback. Suddenly people are flabbergasted from the fact that females have flaws on their skin. Blame the media.
When I was in High School/college, the only makeup I wore was eyeliner. I'd only apply it under my eyes – a thick black line, like most rocker/emo kids. I didn't wear foundation or lipstick because I was kind of lazy and wasn't into the whole black lipstick trend. My skin was pretty smooth, bright and even-toned. Because I was really bad at fully removing eyeliner makeup from my face, it would smudge, creating this smokey shadow to my top lids. I liked the look so I kept it that way at times. (Plus my glasses always drooped, allowing the top of the frame to cover my top lids/eyelashes.) But I assure you, the only makeup I am wearing intentionally on the left is one thick line of eyeliner on the bottom of my eyes. The rest is whatever smudged all over my eyes from the liner and YOUTH.
You must be insane if you think my skin looks anything like that today. I never took care of my skin really, just lotion during the winters. No face masks or anything like that ever. Between the impact of weather, pimple scarring and the discoloration you get from almost reaching 30, my skin is a sad version of its former glory.
So that's why I wear makeup now. At the age of 26, I decided to start wearing makeup on the rest of my face. Because I'm old. *gives the finger* I'm married so I have no one to impress other than my self esteem. All that bullshit about girls wearing makeup to impress guys is ridiculous because any girl will honestly tell you that they wear it for themselves and for other women. Because a WOMAN will see all the imperfections a man will miss. The innate pressure to compete among one's own gender is why we do it. Kind of like how a group of guys with (or without) their women watching feel the need to show their masculinity while playing something competitive. They already have a girl, but still like to feel impressive for the sake of feeling impressive. Not to win another girl. Not because he's insecure about losing his girl. Because he wants that "Fuck Yea!" feeling. Same for the girls wearing makeup, m'kay? 😀
Now that you know WHY I use makeup, let me show you what I use. I really don't like the "cakey, entirely drawn face" look. I keep it as natural as possible. Basically I try to even the skin tone by concealing the imperfections, adding some color so that I don't look like a ghost and add a bit of drama to the eyes. Lipstick, if I feel I need to match. I'm not going to teach how to use makeup products, as there are many Youtube channels for that, but here's a list of things I use and focus on.
Skin
Concealer – Kind of a must to cover any blemishes and dark circles (which I suffer majorly from lack of sleep). I like to use my concealer first before foundation. Many people like to put concealer over their foundation if they are not doing full coverage. My foundation/BB cream is light coverage, but I find that when I put concealer over them, the concealer is too noticeable – mostly because BB Cream and the likes have such a dewy glow to it, while the concealers are matte.
Foundation or BB Cream – I do not use foundation on a daily basis. It takes too long to put on and it forces me to apply other products such as blush, etc to give color back to my face. (Due to foundation being matte.) As someone that did not regularly use makeup, foundation feels very heavy and dry for me. Instead I use BB Cream on a daily basis. It's all the rage in Asia and gives a healthy glow to your look. If you didn't know, BB Cream usually have some sort of SPF protection and has skincare benefits as well. It's more like a tinted moisturizer rather than makeup. For that reason, BB Cream's coverage is lighter so your natural skin will show through. However foundation gives full coverage and is better for photos, since BB Creams' glowy look gives off a shine. Here are some pictures to show the difference. (Hope you can see past the Instagram filters…)
BB Cream
Foundation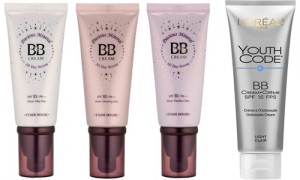 I haven't used enough different products to give reviews, but my general impressions about the BB Creams I've used is that the L'Oreal brand is kind of oilier and needs face powder to lower the shine. It's something I'd only use during the dry winters, as it starts feeling greasy if I'm warm. Etude House is a Korean brand that has less shine and doesn't feel greasy. It is SUPER white though, as that is the look Koreans want to achieve. It has skin whitening properties (which basically evens tones, not make you lighter…) and a much higher SPF protection. Korean brands tend to have less color choices than western brands do. (Obviously.) Etude House only has shades for light to medium skin while western brands come in a wider range of shades. The Etude House brand has better coverage than the L'Oreal brand. I just wish it wasn't so light… You might not be able to see it in the photos due to them being filtered, but trust me – in person Etude House makes you look really pale. (As pale as when I was cosplaying, using pale foundation.) If you're into that, great – but if you're not, you might have to mix it with some other brand to get the right tint.
I'd definitely suggest people who do not like foundation to use BB Creams instead. It looks more natural and takes seconds to apply. You don't even use a brush. Just dab a few spots on key areas of your face and spread with your fingers. (Apply more in layers on trouble spots if needed.) I like to use it on a daily basis, but for taking photos, foundation is the way to go. Foundation has less shine and better coverage, creating a better palette for whatever else you have to do. (Especially if you're cosplaying.)
Eyes and Brows
I wear glasses and I prefer wearing glasses over contacts. I have a severe astigmatism (meaning my eye is shaped like a football rather than a sphere) which makes wearing contacts uncomfortable towards the end of the day. I have double lids (as opposed to monolids as some Asians do) but when I wear glasses, it is less apparent because for some reason, my eyeballs go forward. My mom would laugh and call them fish eyes, then shake her head and say I messed up my face and shouldn't have watched so much TV. (The reason is because it's hereditary, but parents never like to admit that. Asian moms – the #1 critic for their daughters…) Anyway, depending on which angle the camera is facing and how long I've been wearing my glasses, I may look like I have monolids. However whenever I'm not wearing glasses, such as when I first wake up in the day, walk around blindly, or when I'm wearing contacts – my double lids are clearly visible.
Why do you need to know this? Well depending on if I'm wearing glasses or not, my eye makeup routine changes. Glasses hides a lot of things so generally wearing a lot of makeup on the eyes is kind of a waste. You can't even wear long false lashes because it would touch your glasses. (You can wear lower lashes, but I'm not into that.) When I'm wearing my glasses, I can just walk out with eyeliner. I don't even have to hide the dark circles if I don't want to. However when I'm wearing contacts, I sort of need to hide the dark circles. I also use eyeshadows.
With or without glasses, eyebrows need to be filled in. In pictures, my eyebrows won't show up very well, especially the brow area towards the outside of my face. It sort of disappears halfway, creating a Starfire look. You know, Starfire from Teen Titans?
Anyway, I don't like the super thin brow look. The "IN" thing is supposedly thick brows nowadays, but I like somewhere in between. I like the naturally bushy brows I had been born with so I kept it somewhat the same. I use dark brown pencil or eyeshadow to fill them in.
I do not wear false lashes on a daily basis. Mascara is enough (if at all), I don't have time for that shit. 😀
Etc
Blush, sometimes bronzer to serve as shadow along the jawline and nose bridge, minor highlights on cheek/nose and lipstick are the last things I may or may not do.
So that's about it. In general, the key to a healthy look is sleep (which I don't do much of), drinking water regularly (Which I've only JUST STARTED doing… Water tastes plain, yo.), and being comfortable. The healthier you keep your body, the less makeup you have to wear to cover up. Whenever I see pictures of my 19 year old self, there's a deep sigh right before I mutter "Those were the days…" Also remember to clean your makeup off at the end of the day to prevent breakouts and gross shit on your pillows.
Well I hope this post was insightful to how I make my face look the way it does in photos. If you're wondering why I don't smile in photos, it's because I don't naturally smile much. Even when I think I'm smiling, I'm really not… When I try to force smiles, it looks like I'm about to murder someone, so let's just stick to what I know. STARING.
Lastly, I'd like to note that one of the keys to taking a good picture is LIGHTING. It's easier to take a good picture outdoors with sunlight than it is at night with artificial lights. My apartment is not ideal for taking photos because all the lights emit a yellow tone. That's one of the main reasons I Photoshop many of my latest photos. I remove the yellow tint, brighten the photo and then blur the fuck out of the background so that you guys can't see the mess behind me. 😀 The bokeh effect was something cheesy I added to brand my photos and further cover the background.
And Now For #nomakeup Photos That Hopefully Aren't That Drastic From My #withmakeup Photos…
And in case you're wondering, I did change my glasses over the years – they just all look the same. I like to keep around the same shape. I went from ovular to rectangular with rounded edges… Which only looks ovular to the untrained eyes… BECAUSE I DON'T LIKE CHANGE, OKAY?!
P.S. I buy most of my makeup in Walmart and on Ebay. I don't use super expensive brands. The stuff I use all cost $15 or less. A $50 foundation might look and feel better, but guess what? I'd rather buy a shit ton of other stuff than waste it on something I'd wipe off at the end of the day.
P.P.S. As a New Yorker, Walmarts fascinate me… We don't have them in NYC because Walmarts lack unions and the low prices might put some stores out of business. I've only been to one ONCE in America when I was 23 years old. It was only until I moved to Canada did I visit Walmarts regularly. A store that sells grocery, clothing AND automotive goods? You mean I can place this raw chicken on top of the shirt I'm buying? Gross, yet strangely satisfying! 😀