First, I'd like to announce minor changes to the Wallpaper and Avatar sections. If you look at the either section, you will notice that now there is a number next to each Anime title, telling you how many avatars or wallpapers you will see inside. I don't know why I never thought of putting it there. Perhaps I was lazy.
The Forgotten Lair – ALWAYS IMPROVING!
**** JUST ADDED A SCROLL TO TOP BUTTON ON LOWER RIGHT SIDE WHEN ON LONG PAGE ****
Secondly, I am pleased to announce that for the first time in years, I feel pumped to design for this site again. My new arrival at Tumblr has made me realize that there is indeed a new generation of teens and Anime watchers out there. I've gotten so old and complacent, along with my lazy and tired. This new wave of teens has me pumped to make more stuff so expect to see some more stuff soon. …Aaaaaand it's gone…
If you haven't been following my Tumblr, you probably should, because I've been having a lot of fun posting a lot of rants and funny images up there. You can also follow some of the fun on Facebook and Twitter, but Tumblr is probably the best place for it. Almost every day, I post a new "VS" image along with other funny scenarios. Give it a look! And spread the word!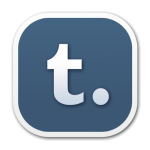 View My Tumblr